NEWS

2019/01/26
Lethal Infection - The Chant Of The Black Prophecies MC out now!

| | |
| --- | --- |
| | |
The 2018 EP recording The Chant Of The Black Prophecies released on cassette by Inverted Inhumation. Pure and primitive black death chaos from Chilean hell. For fans of early Sarcofago, Mutilator, Atomic Aggressor and Parabellum. Order single copies for 4€ or ask for trade/wholesale.


2018/12/22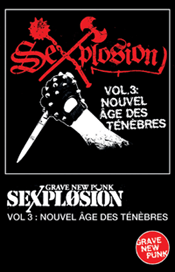 Sexplosion from France signs with Inverted Inhumation to release their album Vol. 3: Nouvel Âge Des Ténèbres on cassette format. Expect some superb metalpunk for fans of G.I.S.M., Zouo, Discharge and such.

2018/12/01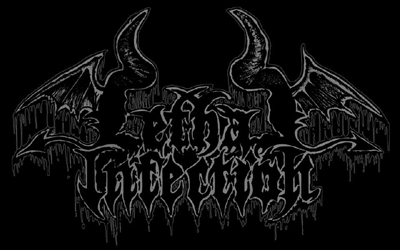 The 2018 EP recording The Chant Of The Black Prophecies will be released on cassette in early 2019. Pure and primitive black death chaos from Chilean hell. For fans of early Sarcofago, Mutilator and Parabellum.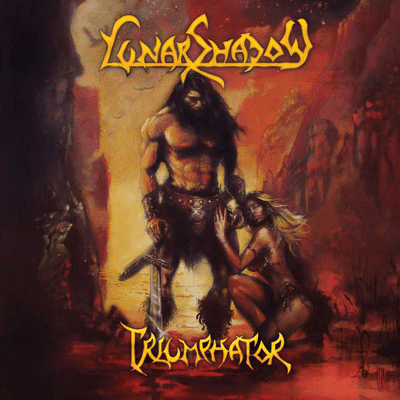 The EP originally self-released by the band in 2015 and in 2016 on CD by Stormspell Records. To be re-released on cassette by Inverted Inhumation in early 2019. 4 tracks of heavy metal supremacy. Raise your fist for the night of the Triumphator!

2018/11/17
Distro is open again!




2018/11/10
Germ Bomb artwork revealed!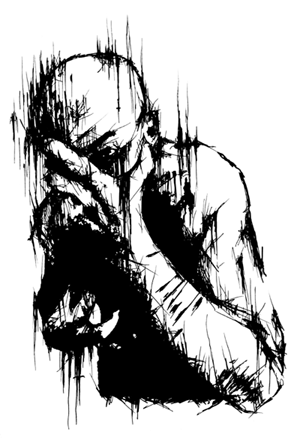 2018/11/06
We will release Germ Bomb's 4th album on vinyl in co-operation with Insane Society Records (Cze) and Metal Race (Rus), watch out!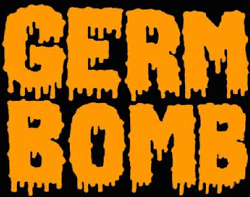 2018/10/29
We're online again! Send us a mail if you have any questions regarding label activities. Distro is closed until further notice.

2016/07/17
Out now: INVERT017 - SADOTANK (NL) - Black Thrash Assault CD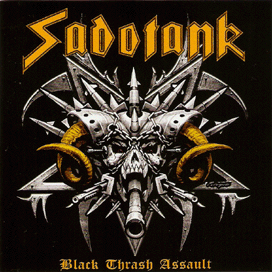 The imperial apocalypse has arrived here now with the official reissue of Sadotank's 2nd full-length album! Originally released independently back in 2014 by this Frisian hellsquad themselves in a limited quantity of 300 copies, this reissue still presents the same 33 minute sadomaniacal skullthrashing inferno that was brought to a higher metallic level with the fine mixing and mastering efforts of Harris Johns (a well known name in the metal realm for his work with Sodom, Kreator, Tankard, Voivod and numerous others). 13 tracks of uncompromising boozedrenched black/thrash that will surely appeal to those into the sounds of bands such as Sodom, Destruction, Deströyer 666 and even Impaled Nazarene (to throw a few names out there), so you have an idea what to expect from this record. To complete the presentation, the cover was illustrated by renowned artist Joe Petagno (famous for his wide array of rock and metal album cover creations, especially those of Motörhead). Now just grab yourself a 6-pack and get this disc to raise hell!

2016/05/05
Distro is open again!




2016/04/07
The distro has been closed since about 3 weeks ago now and will stay that way for a bit longer until everything is sorted out. Feel free to visit the site again at a later point in time to see what's going on. Label activities have also been put on hold for the time being.




2015/10/27
This show in Naaldwijk (The Netherlands) is only 1 month away (featuring 3 bands released by Inverted Inhumation):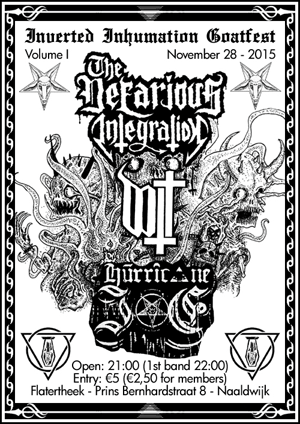 In other news; the Kugra/Crustenunie split LP (which has been out for a few months now) is momentarily not available from the distro, but will be a bit later on. You can also find both bands on facebook and order directly from them instead (or just send an e-mail to Kugra: kugracrusties@hotmail.com).

2015/10/14
The Nefarious Integration "Seventh Circle of Hell" tape with the red paper cover is now "sold out" from us, but a 2nd edition (on the same kind of black tape) with a light green paper cover housed in a red case is now available from the distro at the same price: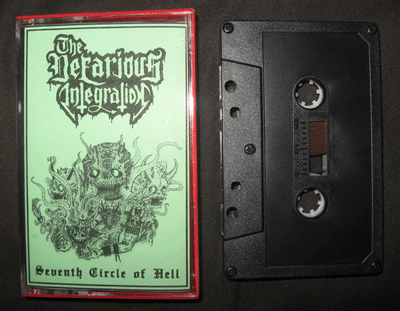 2015/08/07
The Nefarious Integration "Seventh Circle of Hell" tape is out now!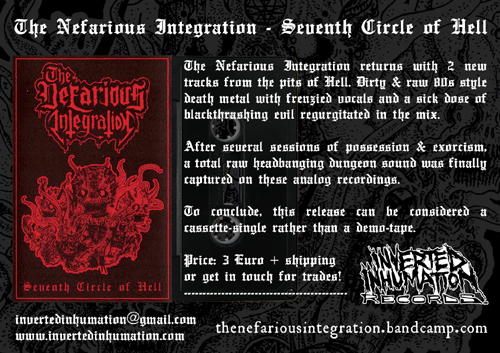 Logo by Dante Fabian. Cover art by Jan Slezak (Ramlord/Skin Coffin).

2015/04/02
Witch Trail's cassette-EP entitled "Call From The Grave" is out now!

| | |
| --- | --- |
| | |
Witch Trail plugs in the Devil's instruments and go full on against the odds with 6 filthy trax (including a Bathory cover) on this cassette-EP. It's clear that these 3 young Belgian maniacs are lusting to create some loud & hellish tunes, so expect nothing but the rawest blackthrashing poison that they surely injected at the altar of Devilish rockers such as Venom, Bathory and Midnight. Tracks with names like "Nocturnal Slut" and "Lucifer's Lapdance" say it all and should get you ready for the whipping force of this atomic metalpunk sound, so turn up the volume and hear this Call From The Grave! Available from the distro for only 4 €uro + shipping.

2015/03/17
The Shining's 2nd LP "The Infinite Reign Of Madness" is available now!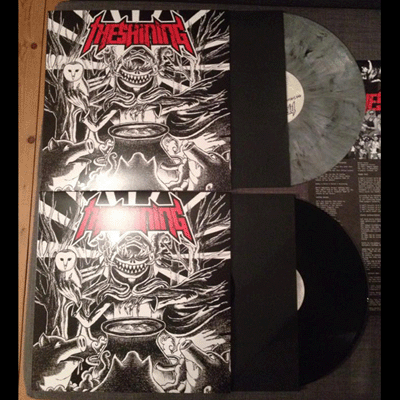 The Shining from Amsterdam is back with their 2nd full-length assault featuring 10 brand new tracks of raging thrash/crossover influenced by bands like The Accüsed, Corrosion Of Conformity, Attitude Adjustment, DRI, Slayer, BGK and more of such classics. The Infinite Reign Of Madness is here to kick your ass into the fuckin' pit! Co-released by Pick-Up Records, Inverted Inhumation, Argh.Fuck.Kill, Dirty Guys Rock, Darcy Trash, Devils Shitburner, RAW Records, Dead Heroes and Rock Mutante. You can order it right now for 10 €uro + shipping! Available on black or grey marbled vinyl (same price!).

2015/02/20
Whipstriker/Nuclëar Fröst/Infamous Glory/Stench of Death 4-way split 7" is out now! Check the distro section for ordering info.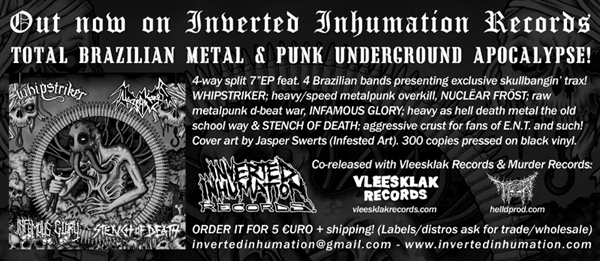 2014/12/26
New website launched today! Watch out for some killer releases coming up in 2015.




2014/11/27
Hurricane Joe & Alien Possession split tape is available now and comes with a totally cult silkscreened Hurricane Joe patch! Be sure to also check out the label we co-released this tape with: Come To The End (go to: cometotheend.blogspot.nl).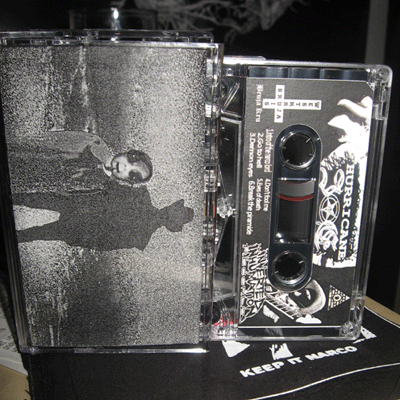 2014/11/15
Masspollution's self-titled 7" is out now! Raw d-beat punk/crashercrust from Belarus. First release on vinyl from these noisemongers. Co-released by Inverted Inhumation, Gasmask Records, Rawmantic Disasters, No Bread! and Vomit Label. 500 copies pressed on black vinyl.